OWLS
Owls are very popular!! I make a variety of different styles, here is a sample of some!
Large Pillow Style Owl
This owl is about 17 inches tall. The body is 10 inches and the legs are 7 inches.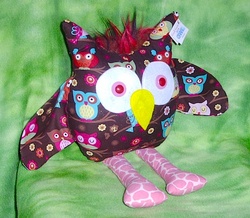 Small Fabric Owl
Small enough to be made into a brooches or pin. Or even strung onto a chain to make a necklace. These come in 4 shades of purple, fuschia, lime or orange.